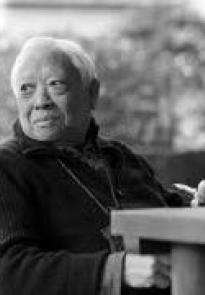 Artist Profile
Ho Kan is an abstract painter born in 1932 in Nanjing, China, in 1951, he studied modern art with Li Chun-shan, which was an experience that deeply influenced his thinking about art.
Most of Ho's early works captured "mental images." The transmogrified forms of birds and beasts roamed the spaces of his paintings, in a surrealist mode brimming with mystery. His colors tended to be of medium to low chromatic saturation and relatively dark. After settling in Milan he elaborated upon his surrealist explorations, yet his outlines tended toward rational geometrical abstraction.
In other words, following the mid-1960s, Ho Kan moved in the direction of compositions with hard edges, and a spirit of visual poeticism. Structures composed of colored circles and lines implied spaces moving in random and unpredictable directions, manifesting forces acting from outside the frame and expressing the significance of things external to the picture. Ho's art was clearly influenced by Italy's rich culture, and his paintings exhibited subtlety and restraint. While his oil colors were light and graceful, they nonetheless conveyed considerable depth of spirit. From the 1970s to today, his colors have become increasingly dense and bright, his compositions increasingly lissome and minimal, frequently expressed in symmetrical, spontaneously manifested points and overlapping short, straight line segments. Sometimes lines and fields freeze in mutual opposition. Scintillating points and lines suddenly materialize, disrupting a tranquil, expansive image. Yet at other times, one discovers these supple little symbols serving as a reassembled musical movement of disassembled calligraphic lines.